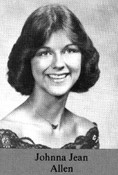 Johnna Wilkerson
Sunday May 12, 2002
ODESSA - Johnna Wilkerson, 40, passed away Friday, May 10, 2002, in Midland County. She was born May 30, 1961, in Perryton, Texas.

Johnna moved to Odessa in 1970. She was married to David Medlin for ten years.

They were wed on March 8, 1985. Later, she married Mitchell Wilkerson on Feb. 20, 1998, in Odessa. She worked for the Bobby Cox Companies for eight years and was a member of the Sherwood Christian Academy School Board. She taught women's Bible studies, and enjoyed sewing and cross-stitching.

There is a family visitation scheduled from 5 p.m. to 7 p.m. on Sunday, May 12, 2002.

Services are scheduled for 4 p.m., Monday, May 13, 2002, at Immanuel Baptist Church with the Rev. Mark Riley officiating. Burial will follow in Sunset Memorial Gardens.

Her mother, Gwendolyn Jeanne Allen, and grandparents, Gene and Grace Akers, and Irvin Allen all preceded her in death.

Survivors include her husband, Mitchell Wilkerson; son, Jonathan Medlin; stepson, Brandon Wilkerson; stepdaughters, Tanisha Stevens and Keesha Wilkerson, all of Odessa. Also surviving her are her parents, Bill Allen of Odessa, and Chuck and Mary Griffin of Wichita, Kan.; sister, Stephanie Todd of Midland; one grandchild, Dalton Stevens of Odessa; nieces and nephews, Taylor, Madison, and

Dillon Todd of Midland, and Michael Rex of Odessa; aunt and uncle, Sue and Larry Lackey and their children, Shelly and Larry, of Temecula, Calif.

Memorials may be made to Sherwood Christian Academy in Johnna's memory. Arrangements are under the direction of Sunset Memorial Funeral Home.